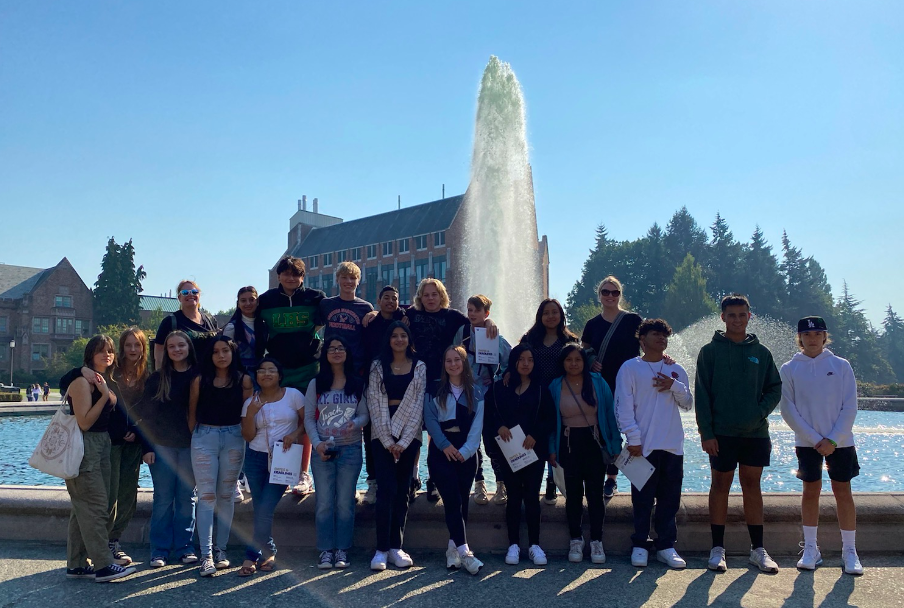 LHS AVID Students Tour Seattle Universities
The Lynden High School AVID9 and AVID10 students visited Seattle recently to tour both Seattle University and the University of Washington.
A nationwide program offered at Lynden, students apply to join the class that then places a focus on helping them develop the skills, strategies and mindset to achieve in their post-high school education path.
An acronym for Advancement Via Individual Determination, the program empowers students to solve problems and access available resources.
"The path to college is not an easy one," says Kevin Richins, a LHS teacher and AVID advisor for the Class of 2023. "There are expectations, deadlines and experiences that students need to have. When you may be the first person in your family that is planning on college, you may not have the knowledge about what you need to do to get there. Students in AVID learn what they need to do to qualify for college and to succeed when they get there."
Stephanie Garza, who was the advisor for the AVID class of 2021 and now for the Class of 2025, says she has seen firsthand how the program helps bridge the gap between the students who have huge goals to continue in their education, but need the resources and tools to equip them to get there.
"My view of AVID has changed because I have heard back from so many of the 2021 graduates who are sharing the impact that AVID has had on their lives," she says. "In the moment, I know that AVID is helping students, but teachers often don't get to see the fruit of their labor in real time. As students have continued to contact me since they've graduated, I'm reminded of the great impact AVID truly does have. My approach has stayed the same: Relationships first. If a student knows I genuinely care about their well-being, the teaching part comes easy."
Garza says that she sees a powerful growth from AVID students. "They display a level of confidence in their learning abilities, confidence in working with others and confidence within themselves," she says, "that is usually not their when they first start high school."